Bucharest, July 11, 2019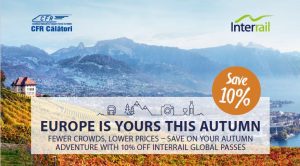 For people who want to travel by train this autumn in Europe, at affordable prices, CFR Călători recommends the Interrail Global Pass  offer, with a further 10% discount, if the ticket is bought during July 15  – August 15, 2019.
The promotional discount offer is put up for sale during the aforementioned period and tickets can be used for journeys during September 16 – December 15, 2019.
Interrail Global Pass provides the possibility of unlimited travel in 31 European countries, from Scandinavia to Turkey and, in addition, the ferry crossing between Italy and Greece. The validity period of the tickets is from five days to three months, passengers being free to choose the route during the journey. Interrail Global Pass offer is valid throughout the country of residence, for a round trip.
Interrail Global Pass is aimed at all categories of passengers: young people, adults, children, seniors and is a convenient and relaxing option to explore the European continent, at attractive prices. Children up to 12 years old will enjoy free of charge journeys and young people (up to 28 years old), adults and seniors (over 60 years old) will also have low tariffs.
Further information is available on: www.cfrcalatori.ro, International traffic section and www.Interrail.eu.
Interrail tickets can be bought from ticket offices of CFR Călători stations and travel agencies issuing international train tickets (the list of units can be found here https://www.cfrcalatori.ro/wp-content/uploads/2019/04/Statii-Agentii-bilete-internationale-RO-aprilie.pdf).
For information about international train movements, passengers are requested to contact our staff at stations, to see the company's website www.cfrcalatori.ro , International traffic section / International timetable or to contact us at  021.314.5528 (International traffic in Bucharest North Railway Station).