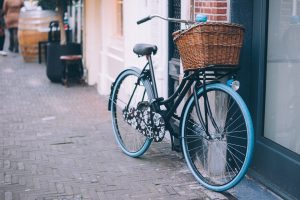 In all the trains of CFR Călători, only foldable bicycles are allowed as hang luggage, provided that they can be deposited in the luggage space and they don't disturb or affect the other passengers.
Non-foldable bicycles may be transported on board trains in the designated spaces from the specially fitted coaches.
For the international destinations, CFR Călători provides the bicycle transport service between Brașov-Budapest and return, on board train no. 366/367 "HARGHITA".
In order to transport non-foldable bicycles on board the train, buying the international bicycle ticket is mandatory. The price of the bicycle ticket is of 5 euros/bicycle.
The bicycles are the responsibility of the passengers, in the departure station, the connection station and the arrival station, as well as during the travel.