21 June 2018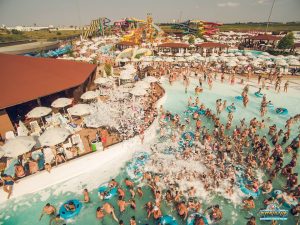 Starting from June 29/30, 2018, the transport program "Sun Trains"- summer transport program of CFR Călători is implemented. Until September 9, more than 40 de trains will provide daily direct connections across the country, to the Black Sea resorts, to the Danube Delta and back.
For all the regions of the country to be connected with the most popular holiday destinations during the summer, 16 direct trains (with related branches) will have as destination Constanța/ Mangalia, while 17 trains will depart daily from Bucharest stations to Constanța, of which 7 trains arrive in Mangalia. Details about trains and departure/arrival timetable are available in the Annex.
There are also frequent connections with trains running between Constanța and resorts.
InterRegio strains are equipped with air conditioning and long-distance trains have in composition sleeping and berth cars.
Prices
Train tickets are available to all people through a wide range of commercial offers. They are detailed on www.cfrcalatori.ro, at Domestic traffic/ Offers section.  For the services included in the special summer program, all travel facilities granted by law or government decisions in force are valid.
A trip from Bucharest to Constanța, without any commercial offer, is 59,6 lei by IR train, at 2nd class. If a return ticket is purchased, the passenger has already a 10% discount, and if the ticket is purchased online, a 5% discount is added. Also, for the purchase of tickets at least 21 days in advance, the discount is 25% of the transport price. With the offer Minigroup 2-5, the discounts granted are up to 30% if they are purchased online. All the discounts are detailed on www.cfrcalatori.ro, at Domestic traffic/ Offers section.
During the summer transport program, tourists on the Romanian seaside have the opportunity to travel between the seaside resorts by InterRegio trains, at Regio train prices.
Travel time
Seaside Trains, running at high speed, without intermediate stops between Bucharest North – Constanța and back, arrive at destination in about two hours. The travel time by the other InterRegio trains, on Bucharest – Constanța route, is on average about 2 hours and 20 minutes.
 Connection with the Danube Delta
In order to facilitate the access of tourists to the Danube Delta, a direct InterRegio train will run daily on the route Bucharest North – Tulcea Oraș and back (IR 1689, departing from Bucharest North at 06:10 and IR 1688, departing from Tulcea Oraș at 13:10). Also, 4 trains (2 one-way/ 2 return) will continue to run daily between Medgidia and Tulcea.
Facilities for people with disabilities
People with physical disabilities have the opportunity to travel more easily by train to and from the seaside, benefiting from free assistance services from CFR Călători (special seats reservation, assistance in the station, boarding/getting off the train assistance and on-board assistance). Passengers must fill in a form available online and at ticket counters, at least 48 hours before departure, for trains with departures/arrivals from/to major stations. All details for accessing these free services can be found on the website www.cfrcalatori.ro, at PRM Assistance section.
Changes in the movement of other trains
With the entry into force of the summer transport program, some Regio and Interregio trains will have the timetable adapted to the new summer-time program and the changes will be announced locally in train stations.
Ticket purchase channels
We recommend all passengers to purchase train tickets in advance, to avoid congestion at ticket counters, especially for long-distance trains having in composition sleeping and berth cars.
Tickets can be purchased:
Online from www.cfrcalatori.ro;
From ticket vending machines in stations;
From ZebraPay machines;
Directly from ticket counters in stations and CFR travel agencies;
From authorized distributors (travel agencies).
 Recommendations
Before traveling, we ask all the passengers to make sure they purchased a ticket, to avoid additional tax onboard, corresponding to the train rank and mileage and/or to bear the cost of a fine according to the regulations in force.
For updated information on trains timetable, passengers are kindly asked to check the company's webpage www.cfrcalatori.ro, to contact us at 021/9521 (for domestic traffic), 021.314.5528 (for international traffic in Bucharest North railway station) or to contact our station staff.