May 11, 2018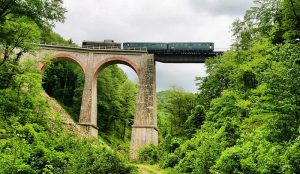 The two tourist trains running on the route Oravița – Anina have a compulsory seat reservation regime and we recommend buying tickets in advance. They can be purchased from the railway stations counters and CFR travel agencies, as well as online, up to 30 days in advance.
Since the travel requests for these trains have increased lately, you should check,  from time to time, if there are still available seats for the travel date.
The CFR Călători measure thus supports the tourists choosing to travel by train on the oldest and the most spectacular mountain railway in Southeastern Europe, to adapt the number of tickets sold to the transport capacity.
A ticket price is 13,90 lei (including the reservation fee amounting to 3,90 lei) and the trains run daily, according to the following timetable:
R 9695 Oraviţa (departure hour 11:15) – Anina (arrival hour 13:09)
R 9696 Anina (departure hour 14:40) – Oraviţa (arrival hour 16:35)
The access to Oravița is made by public transportation, near Reșița and Timișoara railway stations.
More details are available on www.cfrcalatori.ro, at Domestic traffic/ Services provided / Travelling on Oraviţa – Anina route.
CFR Călători would like to thank all the passengers who buy a ticket every time!
 PHOTO source: facebook.com/ecoturisminbanat