3 noiembrie 2022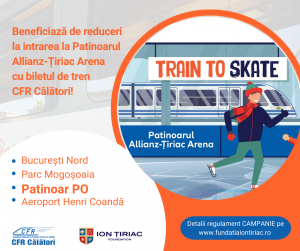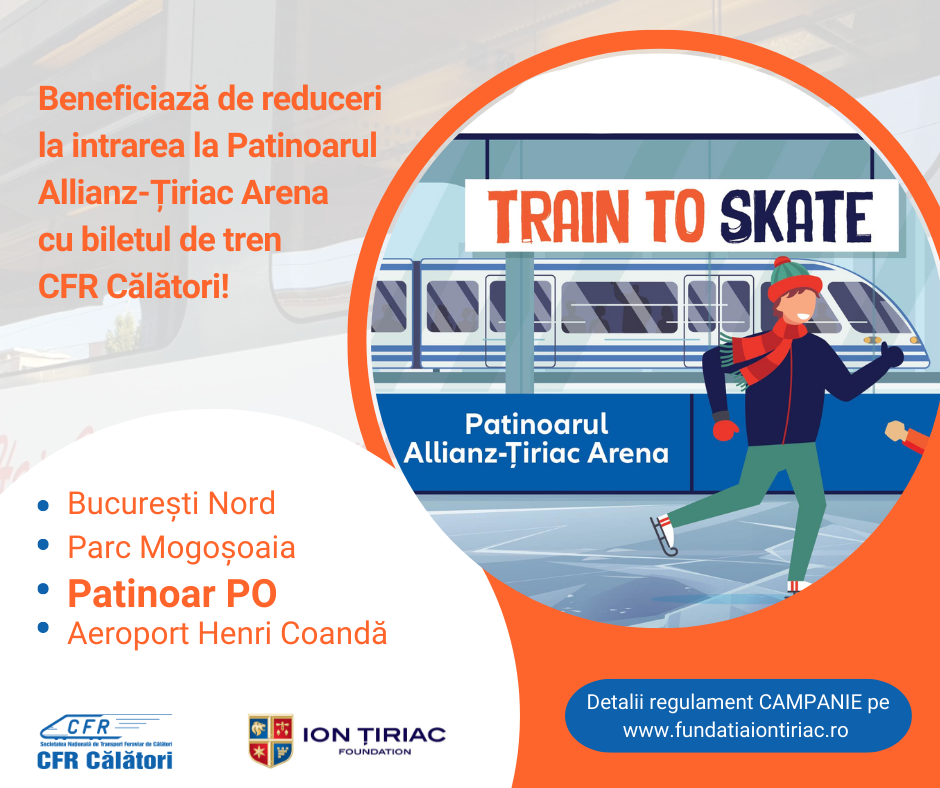 Campania vine în sprijinul iubitorilor sporturilor pe gheață care doresc să le practice indiferent de vremea de afară și să ajungă cu trenul la Patinoarul Allianz – Țiriac Arena din Otopeni.
CFR Călători în colaborare cu Fundația Țiriac și Patinoarul Allianz – Țiriac Arena încurajează practicarea sportului în rândul copiilor, tinerilor și adulților.  Cei care călătoresc cu trenul pe ruta București Nord – Patinoarul PO (Otopeni) vor beneficia de reduceri la intrarea la Patinoarul Allianz-Țiriac Arena, în baza biletului de tren.
Campania TRAIN TO SKATE se derulează în perioada 03-30 noiembrie 2022, astfel:
Publicul doritor să patineze își achiziționează bilet la trenurile CFR Călători pe ruta București Nord – Patinoarul PO (Otopeni) de la punctele oficiale menționate în regulamentul ofertei, iar la recepția patinoarului prețul pentru călătoria cu trenul va fi scăzut din valoarea tichetului de acces pe gheață. Reducerea se acordă doar în baza unui bilet fizic sau digital de călătorie. În cazul în care plata s-a efectuat la aparatele din tren, discountul nu poate fi aplicat în absența unui bilet tipărit sau digital. Reducerea se aplică doar pentru călătoriile realizate cu trenurile operate de CFR Călători.
Regulamentul campaniei TRAIN TO STAKE precum și tarifele, programul și locația patinoarului pot fi consultate pe website-ul www.fundatiaiontiriac.ro. Programul de circulație a trenurilor CFR Călători poate fi consultat pe www.cfrcalatori.ro.
***
Societatea Națională de Transport Feroviar de Călători  "CFR Călători" S.A. este operatorul naţional feroviar de pasageri care efectuează  transportul public de călători pe calea ferată. CFR Călători contribuie la libera circulaţie a persoanelor în interiorul şi în afara ţării, în condiții ecologice și de siguranță. Politica pe care managementul companiei o promovează este de a furniza servicii de calitate de transport feroviar de pasageri, cu un angajament față de societate în sensul garantării accesibilității pentru toate categoriile de cetăţeni.
Patinoarul Allianz-Țiriac Arena este singurul patinoar din zona București-Ilfov dezvoltat conform celor mai recente norme olimpice internaționale și în acord cu indicațiile Federației Internaționale de Hochei. Principalul său scop este încurajarea practicării sportului în rândul copiilor, tinerilor și sprijinirea echipelor sportive în atingerea celor mai înalte performanțe. Detalii despre patinoar pot fi accesate la adresa https://fundatiaiontiriac.ro/proiecte/patinoarul-allianz-tiriac-arena/ sau în pagina de facebook.