Posted
22-04-2021
into the
Events
---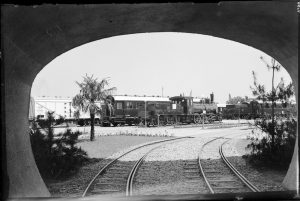 82 years ago, the Romanian Railways (CFR) organized a great event in order to celebrate 70 years from the inauguration of the first state-built railway line, namely the Bucharest – Giurgiu line. This event was called "Ceferiada" and was intended to last for 3 days but, due to public demand, it actually lasted for two weeks.
"Ceferiada" began on the 10th of June 1939, in the presence of King Carol II, Voivode Michael and Pince Paul of Greece. The event took place on the CFR stadium in the Giuleşti district and was attended by over 25,000 spectators.
The railways were defined as the economic engine in the first part of Romania's modernization, the "Ceferiada" highlighting the railmen's constribution to raising the sentiment of national pride.
Did you know?
In 1869, the shortest road to Vienna was from Bucharest to Giurgiu by train, then by boat on the Danube up to Vienna.
The construction of the railway line was finished on the 26th of August 1869, King Carol I departing on board a train to Giurgiu, then travelling by boat to Germany.
The Bucharest – Filarest – Griugiu railway line, with a length of 67 kilometres, was an isolated line, connecting the Capital with the Danube, while being also a direct connection with the Orient and the West.
It is the 10th railway line built on Romanian territory and was open to railway traffic at the end of October 1869, when it was officially inaugurated.
At that time, two festive trains departed 15 minutes apart the Filaret station, the oldest railway station of the Capital. The first train was driven by the constructor itself, John Trevor Barkley, while the second was driven by the first Romanian train driver – Nicolea Tănase.
Source: The short monograph of the Romanian railways, author Radu Bellu
Other articles on the same subject:
CFR Călători, partner of Connecting Europe Express! click here
The future of transport is the railway – Chose the railway! click here
Romania – Founding Member of the International Union of Railways! click here
Railway transport – the Most Ecologic Type of Passenger Transport in Europe click here
Steam locomotives museum in Reșița click here
Steam locomotives museum in Dej click here
Rail transport connects Europe click here
Intelligent transport click here
The TRAIN = The railway transport is cleaner click here
140 years from the first railway built entirely by Romanian engineers click here
The railway connection of the Capital with the East and the West, in the beginning click here
The beginning of railways in Europe click here
Explore the railway route Suceava – Putna click here
The history of the royal train – CFR Călători click here
The Danube Cliff and the Filești Tunnel in the European Year of Railways click here
The Filiași – Bumbești – Livezeni railway click here
The Caracău Viaduct – the largest concrete arched viaduct in Romania click here
The Royal Station of Bucharest Băneasa click here