Posted
07-07-2021
into the
Events
---
The royal train witnessed an important part of Romania's history going through three forms of government: monarchy, communism and democracy. The train was ordered by King Ferdinand I in 1926 at the Ernesto Breda Construzioni Meccaniche factories in Milan, so that His Majesty and Queen Mary could make state visits to neighboring countries. The train was ready a year after the death of King Ferdinand and was used by his family.
The train is composed of the lounge coach, the King's coach, the Queen's coach, the guest coach and the coach of the House of His Majesty the King. The lounge coach is the one in which official dinners were held, and consists of the living room, where 24 people can sit at the table and a lounge with 12 seats.
In the Royal Train, over time, four generations of the Royal Family traveled: Queen Mary, King Charles II, Queen Helen, King Michael and Her Majesty Margaret.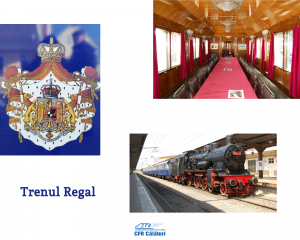 Did you know that?
King Michael traveled extensively by Royal Train during World War II.
The Royal Train was restored in 2003 at the Griviţa workshops, the original elements being preserved in a proportion of over 80%.
The Royal Train of Romania was also used by political leaders between 1948 and 1989.
Source: https://familiaregala.ro/resedinte/trenul-regal
Other articles on the same subject:
CFR Călători, partner of Connecting Europe Express! click here
The future of transport is the railway – Chose the railway! click here
Romania – Founding Member of the International Union of Railways! click here
Railway transport – the Most Ecologic Type of Passenger Transport in Europe click here
Steam locomotives museum in Reșița click here
The "Ceferiada" Event click here
Steam locomotives museum in Dej click here
Rail transport connects Europe click here
Intelligent transport click here
The TRAIN = The railway transport is cleaner click here
140 years from the first railway built entirely by Romanian engineers click here
The railway connection of the Capital with the East and the West, in the beginning click here
The beginning of railways in Europe click here
Explore the railway route Suceava – Putna click here
The Danube Cliff and the Filești Tunnel in the European Year of Railways click here
The Filiași – Bumbești – Livezeni railway click here
The Caracău Viaduct – the largest concrete arched viaduct in Romania click here
The Royal Station of Bucharest Băneasa click here